Customized Packit Freezable Lunch Bag with Zip Closure Rolled up Stored in Freezer Gel Freeze Lunch Bag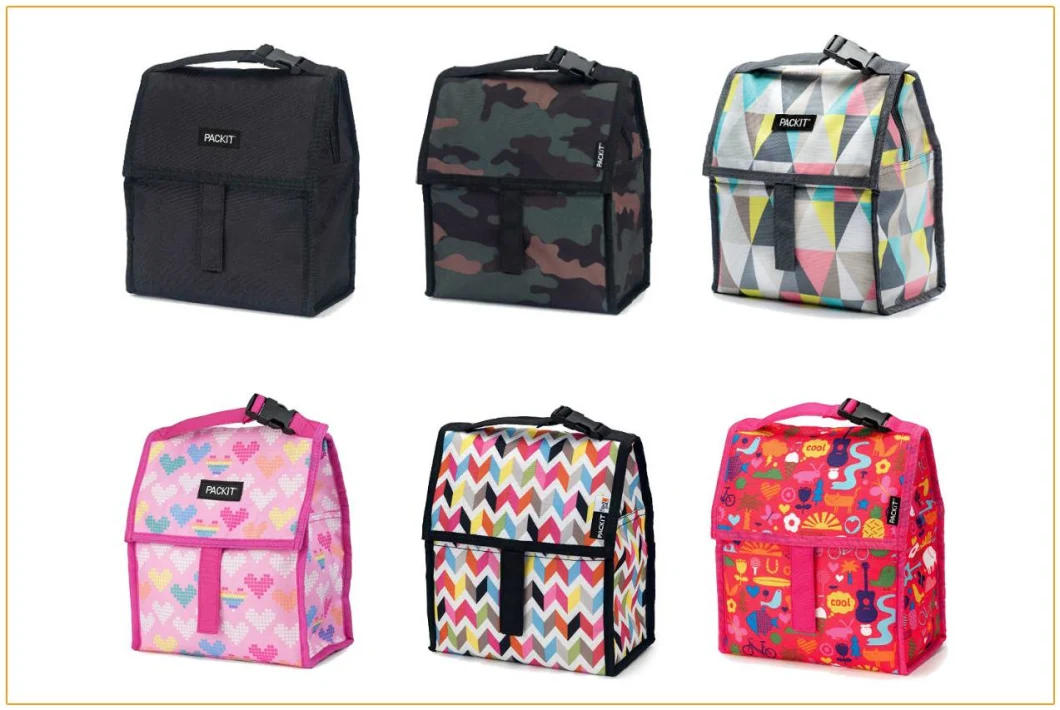 Freezable Lunch Bag
Keeps items cool for hours.
Enjoy fresh food and drinks all day!
No ice packs needed.
The original bag that chills like a fridge

PackIt's best-selling Freezable Lunch Bag has helped millions of families take safe, healthy meals everywhere without the need for burdensome ice packs. Becasuse cooling technology is built into the walls of the bag, you'll never waste money on ice packs again. PackIt's built-in cooling power makes it the smartest alternative to conventional lunch boxes and one of the best lunch bags for kids. It's perfect for school, work, the sports field, travel or just about anywhere.
Built-in freezable gel keeps items cool for hours
Fits a sandwich, snack and a 12 oz (340ml) drink
Made from nontoxic poly canvas; food-safe water-resistant lining
PVC-, BPA-, phthalate- and lead-free
Bag measures 10" H x 8" W x 5" D (2" H x 8" W x 5" D when folded)
Product Highlights









Roomy Interior

Because the cooling is built in, you have more space for food and drinks than with other bags that require bulky ice packs.

Zip Closure

Seal in cold, dry air with the bag's easy-pull tab.

Buckle Handle

It conveniently attaches the bag to backpacks, sports bags, strollers and more.

Variety Of Colors and Patterns

Our fun range appeals to adults and kids alike and there's something to fit every personality. Bonus: The eye-catching designs won't get left at home like a plain old brown bag will.
How It Works
| | | |
| --- | --- | --- |
| 1. Fold and freeze overnight | 2. Expand and pack | 2. Enjoy fresh food and drinks all day! |
Our showroom




David Zhang

I
Sales & Marketing





Vlitabags attend the China Carton Fair from 2008



BSCI audit DBID number: 351036
Tel:+86 574 87311160 I Fax: +86 574 27951699 I Mobile: +86(0)13566058587

Add: No. 328 Yingchun Road , Haishu District , 315000 , Ningbo , Zhejiang , China